Development & Fundraising Manager:
Open Supply Hub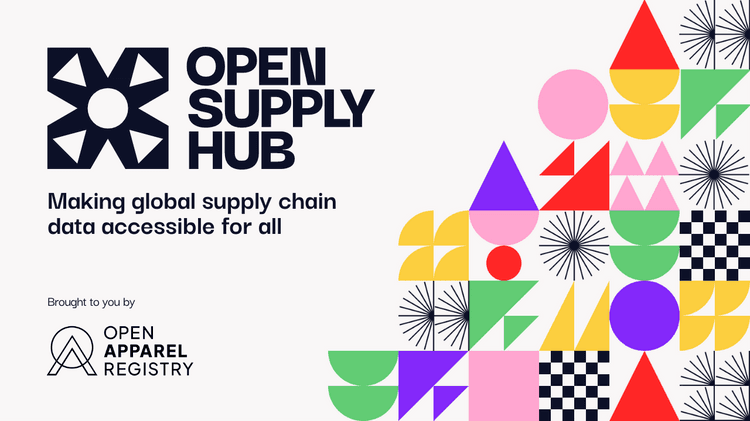 About Open Supply Hub (OS Hub)
Brought to you by the team behind the Open Apparel Registry (OAR), Open Supply Hub (OS Hub) will make global supply chain data accessible to all. Launching in late 2022, it will be an accessible, collaborative, supply chain mapping platform, used and populated by stakeholders across sectors and supply chains. It will provide:
Reliable data: all data contributed to the platform is cleaned and deduplicated by a matching algorithm, and then assigned an industry-standard ID.

One common registry: cross-sector supply chain data is collected in a single place, accessible to all.

Global collaboration: the user-generated dataset gives visibility into which organizations are connected to which facilities, accelerating collaboration.
We know it works
We have already proven the efficacy of the technology and model behind Open Supply Hub with the success of the Open Apparel Registry, the world's largest open map of apparel facilities. Currently live and mapping over 90,000 facilities, the OAR has received contributions from nearly 500 organizations across the apparel sector, including major global brands, civil society organizations, multi-stakeholder initiatives, certification schemes, factory groups and more. It is used by stakeholders across the apparel sector to eliminate confusion and facilitate collaboration, enabling interoperability across systems and tackling the long-standing industry problem of facility identification. With the launch of OS Hub, the potential impact of scaling this approach is enormous.
As an organization, we are built on the principles of "open": open data, open communications patterns, openness to ideas and new ways of working. We are a mission-driven organization and respect and value our stakeholders - they make the OAR what it is, and the future OS Hub what it will be: a tool enabling collaboration across multiple sectors.
Open Apparel Registry, Inc., doing business as Open Supply Hub, is established as a 501(c)(3) nonprofit organization, registered in the USA.

Job Description
OS Hub is seeking a remote, full-time Development & Fundraising Manager to work closely with our team to implement our existing business development strategy and funding matrix, develop and convert client and funder relationships, and execute on the necessary day-to-day activities to help us achieve our ambitious fundraising goals. We are looking for an individual with a history of results, a relevant and current network, and knowledge of the sector and communities in which OS Hub operates. The successful candidate will have experience in securing funding for proposals ranging in value from US$2m - US$5m.
OS Hub is entering an exciting period in its growth and development and will be rapidly expanding its network of clients and funders in the coming months. OS Hub has strong existing funder relationships with a range of organizations, and has secured repeat funding. The Development & Fundraising Manager we hire will play an instrumental role in delivering on our business development objectives. The candidate will represent OS Hub externally and therefore must be a charismatic communicator, who naturally builds relationships that lead to results. A successful Development & Fundraising Manager must bring new organizations into our orbit through their own direct contacts and must be able to meet a multi-million dollar fundraising goal.
The applicant must be able to transition seamlessly from managing donor relationships to thinking about and executing on grant development and reporting. A successful candidate must be creative, comfortable with complexity, have a bias towards action, and be an incredibly fast learner.
OS Hub / the OAR has been a remote working organization since its inception, with current staff based in the US, Europe, and the United Kingdom, and Community Managers based in Turkey and India. We are a growing, energetic, collaborative, roll-up-your-sleeves team. This role will be a remote position, with a preference for someone working in the US, Europe* or the UK (based on team time zone overlaps) who has experience working with global teams. The expectation of the person in this role is to operate initially as an individual contributor, but to transition to a managerial role as the organization and the fundraising team grows.
*Countries in Europe where OAR may hire full time employees are Bulgaria, Croatia, Czech Republic, Denmark, Estonia, France, Germany, Hungary, Ireland, Lithuania, Netherlands, Poland, Portugal and Sweden.

Our Commitment
OS Hub is committed to creating an inclusive and representative environment and is proud to be an equal opportunity employer. All qualified applicants will receive consideration for employment without regard to race, color, religion, gender, gender identity or expression, sexual orientation, national origin, genetics, disability, age, or veteran status.

Duties and Responsibilities
Introduce OS Hub's mission, projects and vision to prospective funders to build upon our database of relevant institutional supporters.

Contribute to, develop and execute on OS Hub's hybrid fundraising and business development strategy (broadly comprising institutional funding, donations and other partnerships)

Manage the business development process from introductions and bid/proposal development to executing successful grant agreements. Grant proposals must align with OS Hub's strategy, programs, and initiatives.

Cultivate a process to deepen relationships with funders, increase retention, maximize giving potential and develop and maintain strategic alliances with supporters, like-minded organizations and funders.

Monitor and track all donor engagement activity in the organization's database (Hubspot). Define metrics and create methods for tracking progress of all business development activities. Develop recommendations and plans in monthly reports for senior leadership to achieve organization, donor, and partnership goals.

Work with the COO / CFO to provide accurate and timely information on business development and oversee reporting to comply with partner funding requirements.
Experience and Qualifications
8+ years of direct experience in nonprofit business development and/or partnership programs and grant writing, including evidence of successful sales and/or funder management skills.

Experience using effective interpersonal skills, listening, diplomacy, and tact to build strong relationships with other team members and funders.

Demonstrated ability to design and implement business development initiatives.

Project management and execution skills with the ability to effectively manage multiple projects and priorities and ability to work independently.

Demonstrated decision-making skills that drive organizational success.

Experience with a global team and scaling an organization is a plus.

Excellent written and oral communication skills.
The ideal candidate will:
Proven track record of successful (multi-million) won grants.

Be detail oriented and work with minimal supervision and excellent time management.

Be a "self-starter" and goal driven to initiate donor visits and business development calls.

Have working knowledge of current trends in charitable giving.

Demonstrate awareness of and sensitivity to organizational mission and its impact on individuals from diverse cultures, backgrounds, and orientations.

Be driven to continuously identify opportunities to improve the organization's effectiveness.

Have effective public speaking and presentation skills.
Compensation
Salary commensurate with experience and location. We benchmark salaries using national averages and try to stay close to ensure equity for our global team. Benefits package aligned to the country of residence of the successful candidate.
Apply
To apply for this position, please submit your resume/CV and a cover letter (maximum 2 pages for each) using this form.

Closing Date: close of business August 14, 2022. We will be reviewing applications on a rolling basis so encourage those interested to apply as soon as possible.
For more about OS Hub:
For more about the OAR:
Open Supply Hub (OS Hub)
Open Supply Hub (OS Hub) is a neutral, non-profit organization that will use open data to map global supply chains. Designed to be accessible by all stakeholders, OS Hub's platform will be populated and used by multiple sectors and will provide standardized, interoperable data about global supply chains. Not only does this have the potential to improve insights about global supply chains, but the data can be used to inform decisions regarding sustainability, ESG and worker's rights. To date, Open Supply Hub has received funding from Laudes Foundation, Humanity United, Deutsche Gesellschaft für internationale Zusammenarbeit (GIZ) GmbH, Amazon and Target.
The Open Apparel Registry
The Open Apparel Registry (OAR) is a free, open data tool mapping garment facilities worldwide and allocating a unique ID to each. The tool is used by stakeholders across the apparel sector to eliminate confusion and facilitate collaboration, enabling interoperability across systems and tackling the long-standing industry problem of facility identification. The power of the OAR's approach lies in transforming messy, inconsistent data into structured datasets, made freely available to all stakeholders under an open data license. As well as many other efficiency and process benefits, the way that the OAR organizes and presents data ultimately improves the lives of some of the most vulnerable workers in global supply chains.
The OAR is expanding to map and open up supply chain data in new sectors, including beauty, consumer goods, electronics, furniture, sporting goods and, of course, apparel. In late 2022, the OAR will become Open Supply Hub.