What is an OAR ID?
The OAR ID is a 15-character unique identifier assigned to each facility in the Open Apparel Registry.
When a facility is first created in the OAR, it is automatically allocated its own ID. OAR IDs do not replace any existing ID schemas. They serve as a central source of truth alongside name and address data. Any organization can make use of OAR IDs, for free.
How to use OAR IDs
OAR IDs can enable interoperability between systems and act as a "clearing" ID against which multiple systems can connect. Using facility IDs, rather than names, as a central reference point eliminates confusion surrounding facility identification and helps stakeholders across the sector quickly reach an understanding of shared connections at the facility level. They can be incorporated into internal systems, such as PLMs or sourcing platforms; shared on public facing dashboards; or displayed on customer facing supplier lists, to demonstrate commitment to the sector-wide movement for transparency.
OAR IDs in Action
How does it look to incorporate OAR IDs into your system? Here are three live examples:
Clarks (Brand)
International shoe manufacturer and retailer, Clarks, incorporates OAR IDs into its supplier lists.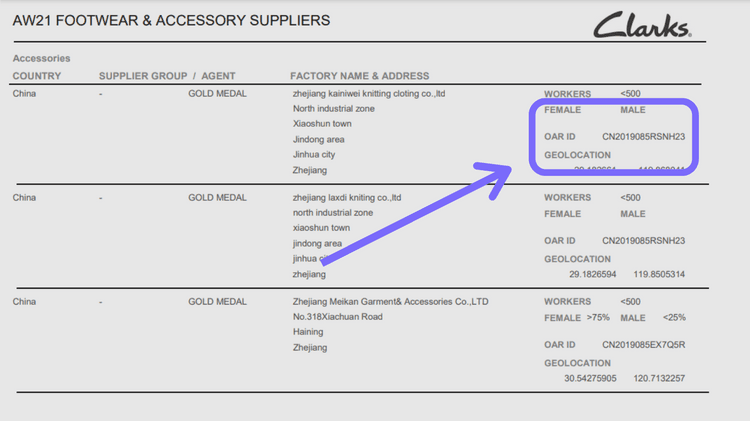 Sourcing Playground (3rd Party Service Provider)
Sourcing platform, Sourcing Playground, aggregates supplier data in their tool, Factory Hunt. Suppliers are listed with their OAR ID and OAR Contributors, and link directly to their facility profiles in the OAR.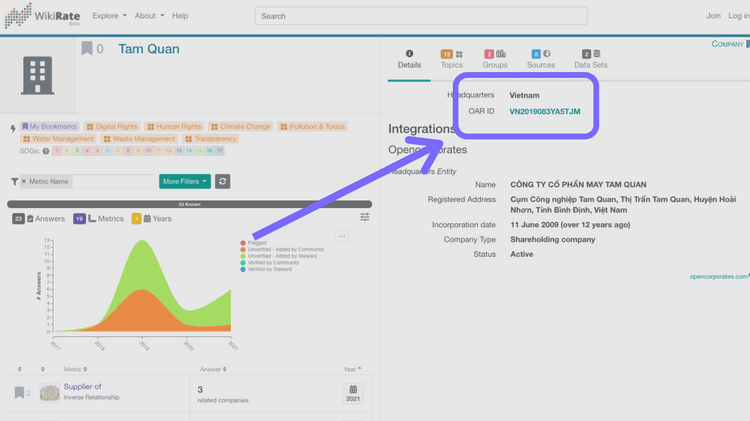 Thinking of incorporating OAR IDs into your database, and want your data automatically synced with the OAR? For users with more sophisticated technical needs, the OAR offers a Push-Pull API. Connecting with the API enables users to programmatically query and exchange data with the Open Apparel Registry.