OAR Users: Here's what you need to know about our expansion.
The Open Apparel Registry is expanding to new sectors on November 2. This guide will walk through how this change might affect you.

The Open Apparel Registry is expanding to new sectors and becoming Open Supply Hub on November 2, 2022. If you currently contribute data to or use the Open Apparel Registry, this guide is for you. Read below to understand what the transition from the Open Apparel Registry to Open Supply Hub means for you and your data, as well as any actions you may need to prepare to take.
We will be sharing more specific resources, templates and materials throughout September and October 2022.

October 14 - November 2: Data Upload Freeze
During this window, we will be migrating the Open Apparel Registry database to Open Supply Hub. This means that you will not be able to upload data to the OAR during this time.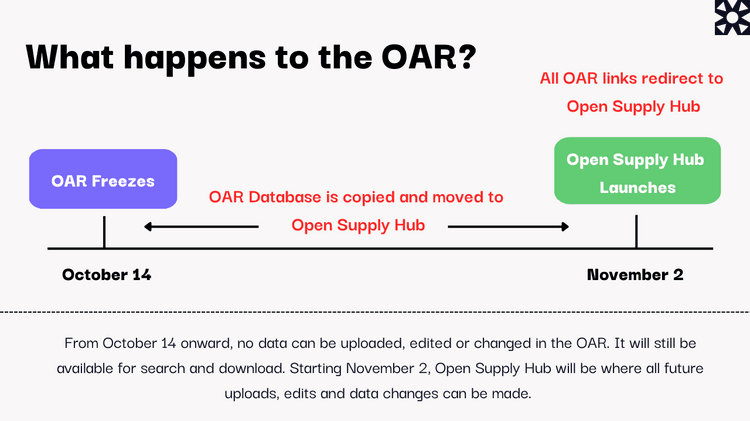 The OAR will still be available for search and download, but no new information can be contributed, edited or updated.
On November 2, we will launch as Open Supply Hub and uploading data will be available for all users again.
If you need to update your data on the OAR before November 2, please ensure you do so before this freeze period begins on October 14.

What changes will this expansion bring:
In addition to some exciting changes to make it easier than ever to use the tool and increase data quality (check out our most recent webinar to learn more), the biggest change is that you will now have the ability to upload and search facility data in any consumer goods sector (apparel included).
How could this change could affect you?
If you:
Only have data relating to apparel supply chains: You do not need to do anything with your data in and around launch. Your data will be automatically transferred to our expanded platform and assigned "apparel" as its sector. Your log-in will remain the same, so you can sign in and update your data at whatever cadence is appropriate for your organization.

Have facilities that you currently list in the OAR that aren't actually apparel (jewelry, eye glasses, sporting goods, home goods, etc) or wish to add non-apparel data to your contribution: We will have a window of opportunity for you to update your data in Open Supply Hub prior to launch, so it can be listed within the correct sectors when the expanded platform goes live. (See "Do you have supply chain data from sectors outside apparel?" below).

Incorporate OAR IDs into your systems: To match our updated name, the name of our ID will change from OAR ID to OS ID. This will not affect the IDs themselves, but if you have a label for those IDs in any of your systems, you will want to update the label to match the correct ID name.

Link to the OAR or mention it on your website/in materials: We will have updated graphics, materials and branding guidelines that you can use, to ensure you are linking to and mentioning Open Supply Hub, instead of the Open Apparel Registry.

Have an Embedded Map or make use of our API: We'll be reaching out separately with information about how our expansion will affect these specific features.
Do you have supply chain data from sectors outside apparel?
We'd love to invite you to contribute it to our expanded platform prior to launch, so it can be included when Open Supply Hub becomes available to the public on November 2.
When can you add/update your data to include new sectors: To have your data included in our platform at launch, you will be invited to upload it to the expanded tool from October 17 - 24. This is a short window, so we encourage you to prepare your data in advance (see Get Started below).

How will this upload be different from an OAR upload? A new data point for "sector" will be supported when OS Hub launches in November. This new datapoint is an important feature for OS Hub in building out our knowledge graph, the base framework for our data that will allow us to continue to scale and map more and more supply chains. Sector will be uploaded as part of a combined column with product type. Values within this column that match a set of defined sector values will be displayed under the sector field; all other values will be displayed under product type. If you do not have data for this column, you may leave it blank.

Get started: Please fill out this quick form (it's just 5 short questions) and then we'll be in touch with a CSV/Excel template and instructions to prepare your data.
If you have any additional questions or wish to set up a call with our team, please don't hesitate to contact us.