Introducing Open Supply Hub
Supply chains don't exist in silos. That's why the Open Apparel Registry is expanding to become Open Supply Hub.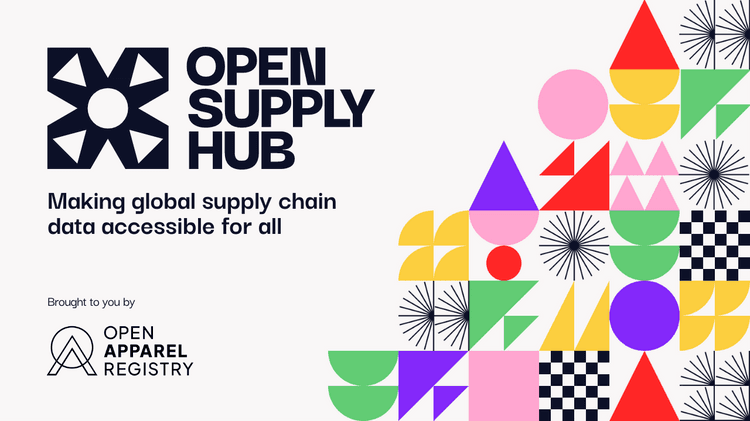 Since the day that the Open Apparel Registry launched in March 2019, organizations from sectors beyond apparel have asked if the OAR could be replicated in additional supply chains. Over time, as the power of opening up supply chain data has been realized, that call has only grown louder. Recognizing that neither supply chains nor their data exist in silos, it's clear that the time for open, standardized data across global supply chains has come.
That is why the team behind the Open Apparel Registry is thrilled to announce that we will be expanding our model to map retail supply chains more broadly, including beauty, consumer goods, electronics, furniture, sporting goods, and, of course, apparel. In late 2022, this expansion will go live and the Open Apparel Registry will become Open Supply Hub (OS Hub).
What is happening to the Open Apparel Registry?
The Open Apparel Registry will continue to exist and operate as it currently does until late 2022, when Open Supply Hub becomes available to the public. At this point, all Open Apparel Registry accounts and data will be automatically transferred to Open Supply Hub. Open Supply Hub will continue to serve you and the apparel sector as it always has - only it will now include additional sectors, as well! As an organization that values transparency and openness, we will be providing regular updates to the OAR community in the coming months, to be sure that you know exactly how this transition will work. Please ensure you are subscribed to the OAR email list, if you wish to receive these updates.
Do you have additional questions about Open Supply Hub? Check out our OS Hub FAQs.

Join the Open Supply Hub Beta Phase
Do you have or work with supply chain data beyond apparel? From June - November 2022, we are inviting interested parties to join our Open Supply Hub Beta Phase, where participants can test out the expanded version of the tool. Options for participation include providing funding, data, feedback, expertise, and more. If you are interested in joining the OS Hub Beta Phase, please fill out this quick form.

Connect with Open Supply Hub
While we'll be keeping the OAR community informed of major updates around Open Supply Hub in the coming months, if you'd like to get more information, you can:
Visit our Media Center for assets to help you share this news with your network
Thank you.
We need accessible, quality supply chain data to address the biggest issues of our time - issues including modern slavery, forced and child labor, deforestation and climate change. Over the last three years, this community has done the essential work of demonstrating the crucial role that opening up supply chain data has in tackling these systemic issues, as well as powering interoperability between previously siloed datasets. Thank you for your support. We look forward to growing and increasing our impact with you!