How to contribute data to the OAR
Follow these step-by-step instructions to contribute your facility/supplier data to the Open Apparel Registry via CSV or Excel file.
There are two ways to contribute facility lists to the Open Apparel Registry: via CSV/Excel file or by API. This guide will walk through the CSV/Excel file process. Learn more about the OAR API here.
Preparing your data
Please read the directions below carefully. Then, download the OAR Contributor Template (see buttons below) and copy and paste your list into the template. The facility data points you are able to prepare/contribute are:
country (required)
name (required)
address (required)
facility/processing type (see Facility Type Taxonomy)
product type(s)
number of workers (raw values or ranges accepted)
parent company
Directions for Preparing Your Data:

The OAR accepts facilities throughout the supply chain, including dye-houses, mills, laundries, cut and sew, RMG, embellishments and printing. The OAR does not accept raw material locations, such as cotton farms or cattle ranches.

The OAR only accepts apparel facility data. This includes facilities contributing to the production of footwear, accessories, leather goods and home textiles.
Do not change the column heading titles in the first row. The wording must be exact for our system to process them.
All fields in your list must be entered as Roman characters and may include accented or other Unicode characters. Fields beyond facility name and address must be completed in English.
Country names must be translated into English in order to be recognized by the system. The Open Apparel Registry uses ISO country names for geocoding and processing.
Ensure your facility names and addresses have fewer than 200 characters in a cell.
Please deduplicate your list. The OAR algorithm will check whether the facilities in your list already exist in the OAR and match them accordingly. However, the algorithm will not remove duplicates within your list. Therefore, we ask that you remove duplicate facilities from your list before uploading. Read more about what is considered a duplicate in the OAR.
Separate your plots/units/buildings. Please only upload one plot/unit/building per line in your upload. This way, our algorithm and moderation team can easily match entries unit by unit.
File size limit: 5MB
Save your file as an Excel file (.xlsx) or as a CSV UTF-8 (.csv)
If you are uploading data points beyond facility country, name and address:
You will note that facility and processing type are merged into one column in the upload template (if you have questions about what constitutes a processing and/or facility type, please consult our Facility Type Taxonomy). In this column, Contributors to the OAR may upload all processing activities that they have confirmed occur at a particular facility, which will appear as the Processing Types for each facility in the OAR. The OAR then sorts those values into searchable Facility Type categories, which will appear as the Facility Type in the OAR.
If you are uploading multiple entries in one cell (like multiple product types), those entries must be separated by a vertical bar. For example: if I am entering pants and socks as product types for a facility, I would enter them as: pants|socks

If you are currently using commas to separate those items, here are some quick steps you can follow in Excel to replace them with vertical bars:

Click on the column letter to select the entire column you're working in
Select the Edit menu --> Find --> Replace
Find what: enter the comma AND the space [, ]
Search: By Columns
Replace with: |
Find next (to test your replace command and it will jump down to the next cell with a comma & space to be replaced)
Replace All (this will replace all of the commas within that particular column)
Repeat for any other columns that have multiple items.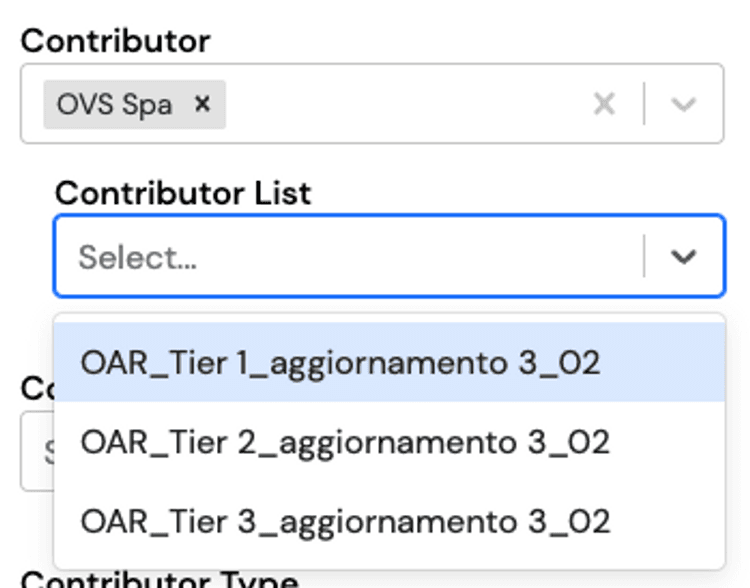 Note: Want to divide up your lists? The Open Apparel Registry allows users to search by list. This means that the name of your list will be publicly displayed. This can be useful if you are looking to separate your facilities in a particular way - like by tier, program, certification, etc. If you want to have more than one list, create and upload a separate CSV/Excel file for each list you want displayed.
Embedded Map Users: If you have signed up for an OAR Embedded Map, you will receive a custom template with any additional data points you may have requested. Please use that template and follow the accompanying instructions to prepare your data for upload.
Uploading your data
1. If you haven't already, register for an OAR account and sign in.
NOTE: There can only be one OAR account associated with a Contributor on the OAR. If you think that more than one person from your team will need to access or manage your data on the OAR, we suggest signing up with an email address accessible to multiple team members (like csr@exampleorg.com or info@exampleorg.org).
2. Go to the OAR Contribute page.

3. Enter your facility list name. If you're uploading multiple lists, ensure that your list name includes what makes this list unique from the other (Tier 1, Certified Facilities, Program Name, etc). This list name will be public-facing.
4. Enter your list description. Enter a description of this facility list and include a timeframe for the list's validity. This will also be public-facing.
5. Select your CSV/Excel file. Select your prepared file to upload.
6. Select a list to replace. If you have previously uploaded a facility list through this account, you are able to replace that out-dated list and make it inactive through this feature. Simply select the list that your new list is replacing. (If this is your first upload to the OAR, you can skip this step.)
7. Hit Submit! Your list is now processing (meaning it's being run through the OAR's geolocation tools and algorithm). Learn more about what that means here. You'll receive an automated email when the processing is complete.

Finalizing your list
Once your upload has been processed, navigate to the "My Lists" section of your account to review the results of the upload. Here you will be able to see any errors in your list, as well as facilities which require you to manually confirm or reject a match with facilities already in the database.
Your list is now live, although any facilities producing errors or that require confirm/reject are not yet visible in your list.

Data points submitted beyond facility name and address have processed, even if they do not appear on this page. Once your list has processed, you will be able to view and search these data points on facility profiles, as well as in downloads from the platform.

1. Resolve Errors. In your "My Lists" Dashboard, you'll be able to see if there are any Errors in the list you uploaded. If you see any Errors, you'll want to resolve those before moving forward with the process. Check out the "Processing Data in the OAR" section of our FAQs for more information on Error types and how to resolve them (one common and easily resolved error is a typo in a country name, for instance). Once you've figured out what may have caused the errors, make those updates in your CSV or Excel file and re-upload the full list to the OAR, replacing your previous file.
2. Complete Confirm / Reject: When you upload your list, the algorithm on which the OAR is run will work to match your facilities with those already in the database. For those that are obvious duplicates, the algorithm will automatically match them. For those where the algorithm is below 80% confident it is a match, you will be asked to manually confirm or reject matches of your facilities with those already in the database. Be sure to complete this step in order for all of your facilities to display in the OAR.
Tip: Click on your list and then filter for "Potential Match" to see all of the facilities that require Confirm/Reject in a row, for easy moderating.


Once you complete Confirm/Reject, your full list is now live and available on the Open Apparel Registry. To learn more about how you can make the most of your data on the OAR, check out our customized stakeholder guides, available on the Getting Started page.
Have any questions as you go through the process? Check out the Processing and Uploading sections of our FAQs page. Still can't find what you need? Feel free to Contact us.