...managing large amounts of data on apparel facilities?
...tracking a dynamic supply chain and feeling concerned about keeping data synced?
...spending too much time manually comparing data between databases?
...completing the same searches in the OAR over and over?
Connecting with the OAR's API removes the need for manual data management and ensures you're always working with the cleanest and most up-to-date facility data possible.

"By using the Open Apparel Registry as the central source of truth for facility location data, we can match our facilities easily and quickly with any external dataset and return OAR IDs to users. This is a great jump-start on the real work: finding ways to collaborate on facility performance improvement." [View Full Case Study]
- Higg
How it Works
Connecting with the OAR's API enables users to programmatically query and exchange data with the Open Apparel Registry.
All users of the API are able to access the data points for facilities available in the OAR, including:
Name
Address
OAR ID
GPS coordinates
Contributor connections
Number of workers
Parent company
Type of product
Type of processing
Type of facility
Through our pull connection, API users are able to query the OAR system without having to add data to the tool.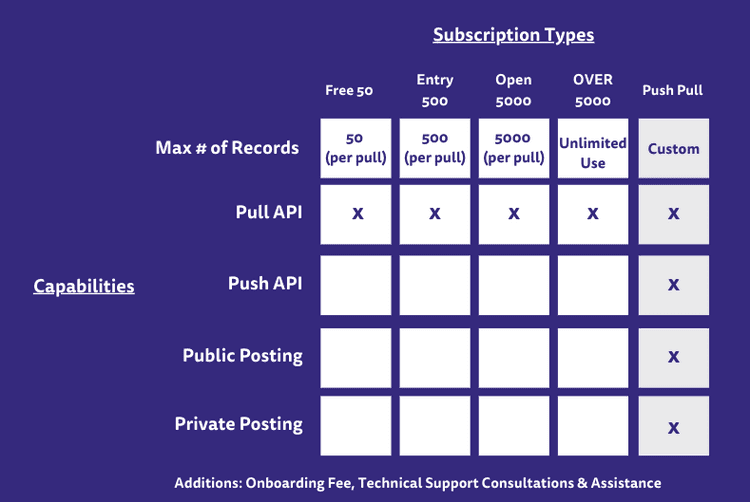 There are two ways to connect with the OAR's API:

Push-Pull API
For users who have data they would like to contribute to the OAR via API, access to our push pull API includes the ability to:

Query the OAR system without having to add data to the tool

Contribute data to the tool and, for each facility, choose whether or not to be publicly connected with that facility (e.g. as Higg, or as "A service provider")
Access to the push pull API is on an annual subscription basis. In addition to the annual subscription fee, there is a one-time on-boarding fee of $3,500. The OAR team will prepare a custom package, depending on individual needs.
Pull API
Pull-only access is for users who would like to programmatically extract data from the OAR, but do not have data to contribute to the tool. There are a range of options to suit a variety of needs. Contact our team and we'll help build a package that's right for you.

Get Started
Have questions about which package is right for you? Contact the team to set up a call. We'll be in touch within two business days.
Create a free account on the OAR, if you don't already have one.
Complete this short form letting us know which package you would like access to [if known].
Technical Resources
Looking for technical documentation? Check out our:
FAQs
Unlike manual data contributions to the OAR, the API works on a per facility basis. When pushing data to the OAR via API, users are able to choose for each facility whether or not to be listed publicly as the data Contributor, e.g. as "Higg". When users choose to contribute anonymously, their contributions are listed as "A multi-stakeholder initiative", "A service provider", "A civil society organization" etc.
API users need to ensure that they are including the prefix "Token" when calling the API. Details can be found in our "API token instructions" documentation (be sure to pay particular attention to the "Additional notes on API tokens" section).